You're about to become better acquainted with my wonderful barge the Zuiderzee and with his skipper. Thank you for visiting my ship online. Come aboard and sail with us the waters of the Netherlands.
---
history
Welcome aboard one of the oldest sailing barge of the Brown Fleet in the Netherlands.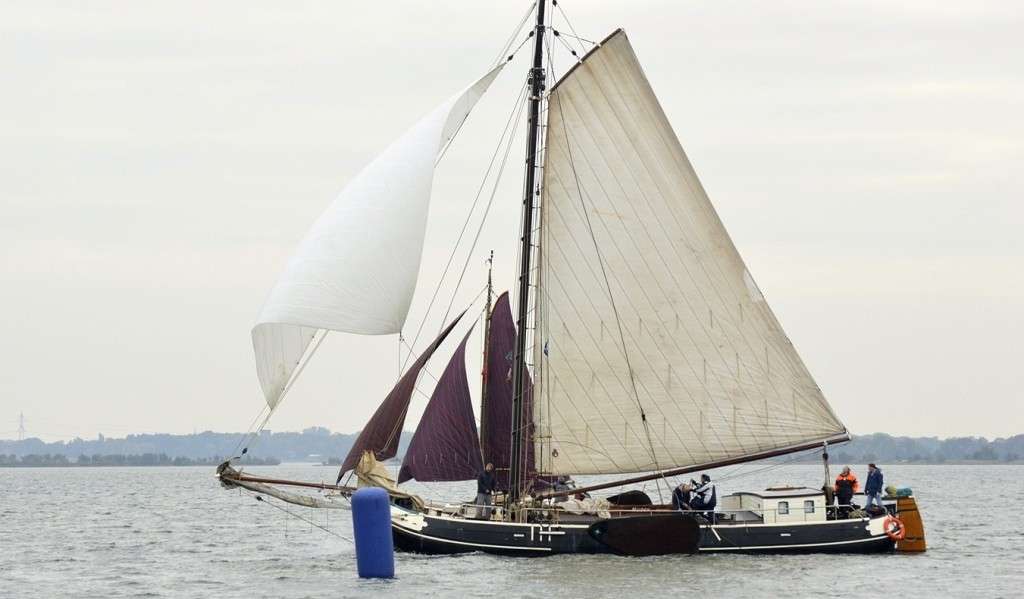 The "Zuiderzee", build in 1884, was originally used as a freighter. In 1978 the vessel was bought by the legendary "Rooie" (red) Gerrit , founder of the Brown Fleet. The ship was rebuilt to serve as a passenger carrier, a charter so to speak. The exterior of the ship has not changed much over the years, but where once potatoes and other freight was stored, now there are sleeping quarters, a living, a toilet and a well equipped galley.
For any given trip we set sail from the historical centre of Muiden, which is about a 20 minute drive from Amsterdam.
After a warm welcome by skipper Olaf  accompanied by a cup of fresh coffee, we will sail past the beautiful and ancient "Muiderslot" castle,  before we start our crossing of the former Zuiderzee (south sea.)
Before we pass the island of Pampus, the 1st mate will have revealed several secrets on how to tie a good knot and what it takes to put a reef in the main sail. Under his or her professional guidance the sails can now be raised.
The noise of the engine stops, only the sound of the waves hitting the ship, the wind pushing us forward and the cry of a seagull remain.
For whom?
Raising the sails, be at the helm, play a game, read, do nothing, sunbathe, swim, some fishing, stroll through old ports, have a drink in and old pub, dancing in the Hole of Holland, endless catching up, in short, something for everybody.
The Zuiderzee is an ideal place for recreation with (groups of) friends, families or colleagues.
And because of the inevitable relaxing effect and necessary teamwork an ideal location for trainings for small groups.
Also special activities like for instance a painting class or a cooking workshop are among the possibilities.
One way or another, doing nothing, doing a lot, or somewhere in between, but best of all….
Undescribable!
Skipper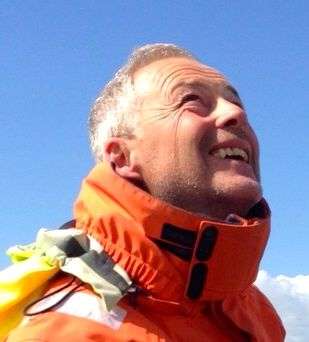 Hello, I'm Skipper Olaf Roselaar, since 2015 the proud owner of this beautiful and friendly barge. The roots of my career as a charter skipper lie at a much earlier past. When I was eight years old my father bought a folding canvas canoe with swords. I was sold. Not just tinkering, but also the sailing was great for me. Soon, this canoe was exchanged for a variety of other sailing vessels. And from my home in Zandvoort I was one of the first owners of a Hobie 14 catamaran.  For years racing, instructing and holiday celebrating I wandered off national waters. Through work commitments and not able to really be 100% experience this hobby. Since 2001, however, there was another great addition to the aquatics hobby at; The skipper went kite surfing. Just become a father, I found myself still young enough to make this sport my own. And with success, now recognized kite instructor and internationally traveled to exotic kite-spot places I enjoy to this day beautiful adventures. When a major reorganization at my former employer was announced in 2009, I was as quick to give my life a turnaround. Inside the brown fleet I was trained as a sailor and wise made the historic ships and associated techniques. This went so well that I decided to go for the large license and perhaps themselves to compromise. This dream has come true. There went years before this sailor at heart, his real dream realized: a beautiful historic sailing ship. A dream that I like to share with my guests:
Welcome to the helm of 50 tons sailing pleasure.
the ship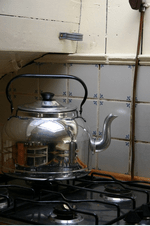 The "Zuiderzee" is one of the eldest barge of the fleet and was launched in 1892. 
By the end of the 1920's, this beautiful "dektjalk" from Groningen was no longer profitable as a freight ship and during the depression years it was used by a sailing pedlar as a commercial barge. In the 1950's, this sailing monument escaped general unrigging because it served as a privat yacht. 
In 1978, the tjalk was rigged again and equipped for cruising.
 On board you will find an attractive guest room, which is very cosy because of its remarkable characteristic atmosphere, and a fully-equipped kitchen. The former cargo hold can accomodate maximum 12 people (sleep).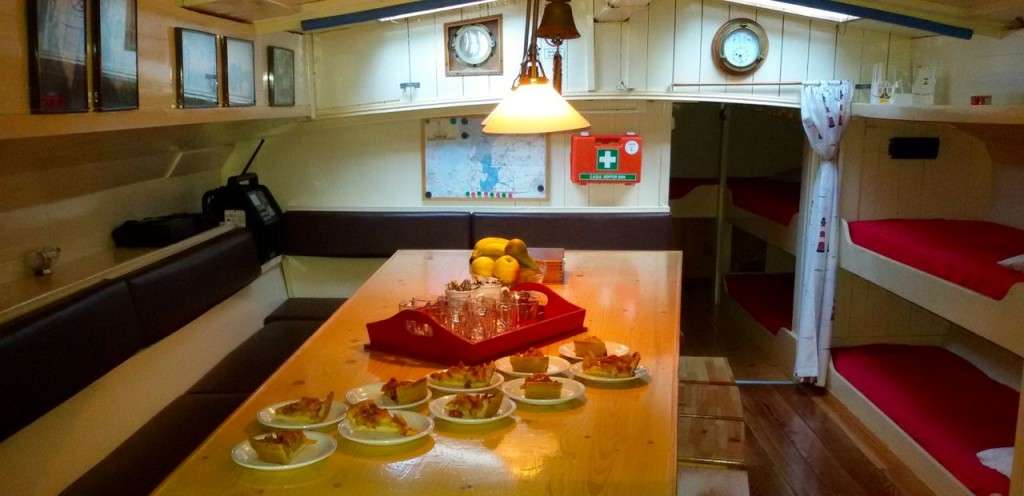 You're planning a few days?  Then spend the night with 8 to 10 people perfectly. Are there children with you, then succeed overnight also fine with 12 people. In total there are 15 beds on board (three for the crew).